Alaska Salmon Fishing Trips.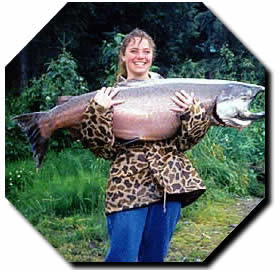 Alaska Salmon Fishing Trips do not have to be expensive nor do they have to be so complicated either. Come experience Alaska's best fishing trips with the Top Rated Fishing Lodge on the Kenai River. Alaska salmon fishing trips with crazy low prices on lodging packages combine with fishing the Kenai River with experienced Alaska Salmon Fishing Guides that really know how to catch the big ones.
Not just any Alaska Salmon Fishing Lodge but the most distinguished guide service on the Kenai River and the #1 choice of serious fishermen looking for fully guided and outfitted salmon fishing trip in Alaska.
Alaska Salmon Fishing Trips are available in May, June, July, August, September and October. Call us today for the best prices on Alaska Salmon Fishing Trips or to talk to us about any and all aspects of the trip and to get more information and current prices for the best Alaska Salmon Fishing Trips on the Kenai River.
The mighty Kenai River is well known for its excellent salmon & rainbow trout fishing and this year's predictions call for a another record salmon run! Don't miss out on some of the greatest fishing found anywhere. Dates are booking now so call today and get your trip reserved for the most incredible fishing trip on the river of dreams.
We have been guiding the Kenai River for over 20 years and we specialize in arranging a custom first class fishing trip for you, your family or your buddies. Whether it is a family vacation, a fishing trip for your business associates or just a dream to be filled, Alaska Salmon Fishing Trips will be happy to work with you to create exactly the memorable fishing trip that will have you coming back year after year.
For trip information or to book your trip call us Toll Free at 1-888-462-1521
Now Booking The Best Dates on Alaska Salmon Fishing Trips for the upcoming Alaska fishing seasons.
---
Alaska Salmon Fishing Lodge
PO Box 2357
Soldotna Alaska 99669
(907) 252-5464
---
The Best Alaska Salmon Fishing Trips are just one call away.
Alaska Salmon Fishing Lodge